TWO LOCATIONS TO SERVE YOU
622 CARPENTER DAM RD
HOT SPRINGS, AR 71901
FRESH SEAFOOD. FAST SERVICE. GOOD PEOPLE.
5411 CENTRAL AVENUE (HWY 7 SOUTH)
HOT SPRINGS, AR 71913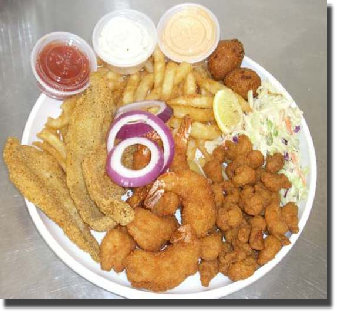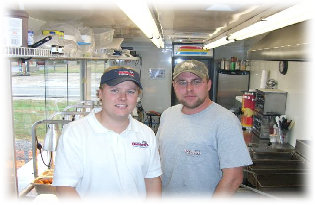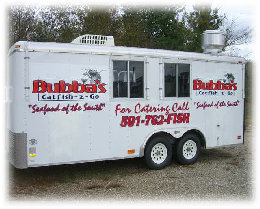 OUR CATFISH IS ALWAYS FRESH...
NEVER FROZEN!
Bubba's Catfish-2-Go is located at 5411 Central Avenue on Highway 7 south in Hot Springs, Arkansas. The owners, Beau and Sharay Durbin, started the business in February of 2008. Beau is also an attorney and Realtor in Hot Springs, and Sharay is a pharmacist. They both received much guidance and help from both family and friends as they began this new venture. They each maintain very busy lives, but strive to make Bubba's Catfish-2-Go an all-around fun and enjoyable place to go. (Also, in case you're wondering who Bubba is…he's the family dog and always eats for free!)
Bubba's Catfish-2-Go was started with the simple goal of providing the finest catfish, shrimp, and other delicious items in a convenient "take-out" concept. Bubba's also serves chicken strips, crawfish tails, delicious fried okra, fries, hushpuppies, and a various assortment of fried pies. Although Bubba's Catfish-2-Go is structured as a take-out establishment, the business has quickly grown into a favorite among locals and is always a hot-spot for visiting tourists. Bubba's emphasizes prompt service and uncompromised quality in a pleasant atmosphere. Bubba's has established a high quality reputation and a positive image with the public due to the desire to have the best products and services available.
Bubba's Catfish-2-Go serves only USDA farm-raised catfish. The fish is raised from Pride of the Pond Farms in Tunica, Mississippi. Bubba's serves only fresh (never frozen) catfish fillets. The fish fillets are shipped directly to Bubba's Catfish-2-Go every week, and are kept freshly packed on ice. They make all of their sauces and cole slaw homemade every day, and their signature "tarter dill" sauce is in VERY high demand!!!
Because of the overwhelming success of Bubba's Catfish-2-Go, they have now moved into the catering business as well. Bubba's has purchased a new 18 foot catering trailer, outfitted with top-of-the-line stainless steel equipment. They are now able to travel anywhere and cook on-site. Whether you have 50 people or 500, call Bubba's today to cater your next party or corporate event!